Dr. Scott Fuller Investigates Native Shrub Used in Creole Folk Remedies to Combat Obesity and Type 2 Diabetes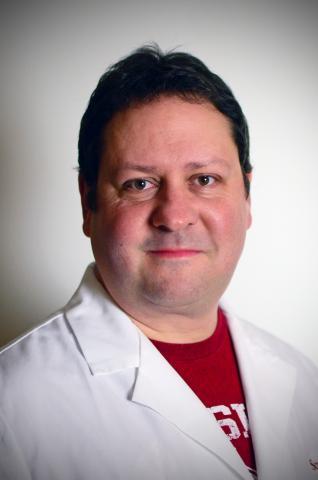 The quest to counter a host of modern maladies has taken researchers to the roots of traditional medicine in Louisiana.
A University of Louisiana at Lafayette exercise scientist was among investigators who concluded that groundsel bush – a shrub native to the state used in Creole folk remedies until the early 20th century – could combat obesity and Type 2 diabetes.
Dr. Scott Fuller, an assistant professor in the School of Kinesiology at UL Lafayette, and scientists from LSU's Pennington Biomedical Research Center and Rutgers University in New Jersey determined that extracts from the plant's stems and leaves positively affected the metabolism of fat cells.

That's important to fight metabolic syndrome, a group of conditions that includes obesity, high blood sugar and increased blood pressure. When combined, they heighten the risk of stroke, diabetes and heart disease.


"Healthy fat cells are indispensable for healthy blood sugar maintenance and proper metabolism in general. This research indicates that groundsel bush can alter the function of fat cells in a beneficial manner and could support its use as a dietary supplement," Fuller said.
Biology, an international peer-reviewed journal, published the conclusions online last month.
The research is part of an ongoing study funded by the National Institutes of Health to identify botanical sources that could alleviate the syndrome's effects.

The Centers for Disease Control and Prevention estimates about 34 percent of American adults suffer from metabolic syndrome. Several Southern states exceed the national rate.

Louisiana is among them. The state is ranked high in cases of obesity and Type 2 diabetes.

A 2016 report sponsored by the Trust for America's Health and the Robert Wood Johnson Foundation found that 35.5 percent of the state's adults were obese. The CDC categorizes a person as obese if their Body Mass Index, or BMI, is above 30.0. A high BMI usually indicates high body fatness.

Louisiana ranked fifth among the 50 states and the District of Columbia in obesity. It fell behind West Virginia, Mississippi, Alabama and Arkansas. 

The same study placed Louisiana at No. 8 in cases of obesity-related diabetes, with slightly over 12 percent of the state's adult population.

Diabetes develops when the body doesn't produce enough or properly use insulin, a hormone that converts food to energy. Type 2 diabetes is most common.

Metabolic syndrome and its related conditions "have become a global pandemic. Our health care system is buckling under the strain," Fuller said. "Obesity and type 2 diabetes are the public health crises for the 21st century."
Dr. Fuller of the UL Lafayette School of Kinesiology was recently invited to serve as a reviewer for an NIH-funded grant program connected with the Botanical Dietary Supplements Research Center at the LSU Pennington Biomedical Research Center. The BDSRC is funded by the National Center for Complementary and Integrative Health, which is a division of the NIH. The grant program funds research on botanical products as novel interventions to combat obesity, type 2 diabetes, and metabolic syndrome.
Learn more about the School of Kinesiology.