Does sleep quality affect performance of divison 1 athletes?
Authors: Dr. David Bellar, Director School of Kinesiology and Dr. Greggory Davis, Assistant Director School of Kinesiology
On some days, weeks, or months, college athletes seem to perform at an incredibly high level. On other days, weeks, or months, college athletes seem to under perform. The reasoning behind the fluctuations in athletic performance is multifaceted and requires a full understanding of the student athlete beyond just how he or she performs during competition.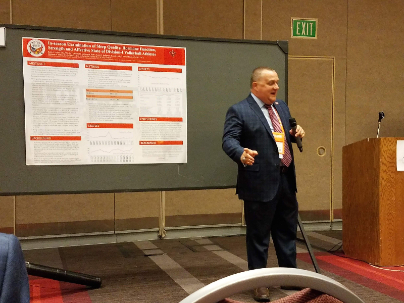 College athletes are required to commit time for practice, games, travel, strength and conditioning, and meetings, which greatly compresses the amount of time available for academics, sleep, a job, family demands, and social demands. As a result, athletes often compromise the amount of sleep they get — or academics and social commitments suffer. Over time, these compromises can lead to changes in athletic performance. Ideally, coaches (and athletes) would like to monitor and ultimately minimize stress and increase sleep quality and quantity. However, if stress or sleep is reported at all, it is often through conversation between the athlete and coach, making it difficult to use the information in any meaningful way.

Finding more objective measurements of an athlete's physical and mental state could provide useful data for coaches and athletes that ultimately optimizes performance on a consistent basis. The College of Education's Dr. Randy L. Aldret, Dr. David M. Bellar, Aimee Mattox (all in the School of Kinesiology), and Dr. Mike McDermott (department of Psychology) along with students Alanna Hoffpauir and Hannah Corley, have spent the past year attempting to address this issue. The research team studied Division I volleyball athletes by collecting objective measures of sleep quality (wrist-worn Actigraph monitor), hormone function (analysis of saliva using an immunoassay), strength (measurement of ground-reaction forces using force platform), and affective state (Positive and Negative Affect Schedule and the Depression, Anxiety, and Stress Survey).

They found sleep quality was related to depression, and every 1 percent increase in sleep quality was associated with a decrease on the depression scale and a similar decrease in negative affect score. Interestingly, sleep quality was not associated with performance (wins vs. losses), but positive affect score was. Despite the team having its best season in 18 years, positive affect score decreased over the course of the season, and positive affect score accounted for 1/3 of the variability in team performance. The negative affect score also demonstrated significant positive relationship with the components of the DASS survey, demonstrating the negative affect score of the PANAS can be used alone to indicate increasing levels of stress, anxiety and depression. Stress hormones did not correlate with wins and losses throughout the season, but during weeks that stress hormone expression was highest, there was a significant negative relationship between cortisol expression and rate of force production.

What does this tell us? More study is needed to determine how much of the stressor in these student-athletes' lives is related to sport participation and how much is social, academic and familial. Additional research should examine the frequency of testing and the feedback mechanism for sports medicine, strength and conditioning, and coaching staffs.
Learn more about our program and concentrations offered by the School of Kinesiology.